About Bitcoin Smiles
BitcoinSmiles is an initiative set up by BTCPay Server, Bitcoin Design and Diente Zonte, aiming to provide free dental care to the impoverished people living in El Salvador. Our mission is to bring smiles to the forgotten people of El Salvador through Bitcoin.
The initiative started in August 2021, as a crowdfunding campaign launched by Enrique Berrios, a local dentist from El Zonte, and Pavlenex, a contributor to open-source Bitcoin projects. The duo who've never met each other in person became friends through Bitcoin Twitter.
Like most of great things, the idea for Bitcoin Smiles was born by accident. One day while discussing the adoption of Bitcoin in El Salvador, Enrique and Pavlenex decided to try to do something and help the people who lacked access to dental care.
Quickly, a distributed team of Bitcoin contributors was formed (Zaxounette, Patricia & Alexa Aker) and in just a few weeks the campaign was launched successfully. Initially, the crowdfunding goal was to raise 1 BTC and provide critical dental treatments and reconstructions free of charge. Generous Bitcoin community and companies helped blast through the fundraising goal in a matter of days.
Enrique's story
I'm Enrique Berrios Vides. I'm a Salvadoran doctor of dental surgery. I have studied digital dentistry and completed community projects. I have worked as a media broadcaster and producer for 16 years. At the same time, I had been trying to help restore the confidence and dignity of people from impoverished communities on the pacific coast of El Salvador through oral rehabilitation in a decent dental practice. I'm based in a majestic place called El Zonte, El Salvador – known worldwide for surf waves and tropical jungle.
Evolvement as a human being helping other human beings. Nurturing myself as a dental practitioner and spiritually in personal growth. Restoring some pride in forgotten communities. I specialize in digital dentistry and rehabilitation, general dentistry, and developing community projects.
My motivation started 16 years ago; while pursuing my degree as a doctor, I was sent to the Ministry of Health to a small dental practice at Teotepeque, La Libertad (the highest part of the Mountain "Cordillera del Bálsamo"). The nearest place to stay on my way to the capital San Salvador, which is about 3 hours from Teotepeque, was El Zonte beach. So, at that time, I decided to escape my comfort zone, avoiding the concrete city after being seduced by the ocean and established my life and the first dental office in the area.
Through all these years, I have been immersed in a reality where the lack of education, health issues, and sometimes barely or no access to basic needs -water, electricity, money, a formal job, or even worse, health access- are deeply embedded. I want to continue helping change their reality and improve the life and health of these forgotten communities.
Diente Zonte dental practice
This clinic is a 6 x 4 room in a ranch in the middle of a tropical jungle. Surrounded by colorful birds, mango trees, snakes and insects, and of course the blue sky and ocean. The clinic has all the basics -the dental chair, lamp, x-rays, suction, and recently a decent fiber-optic internet connection in the area. The potable water supply is scarce. In order to get the x-rays revealed, we use a red light in the room by night, creating a dark room.
Part of our dream is to switch from conventional dental practice to a digital dental practice where we could adopt visio-radiography and a computer-laptop + software, decreasing the radiation exposure and decline the use of a dark room, accessing the x-ray images instantly.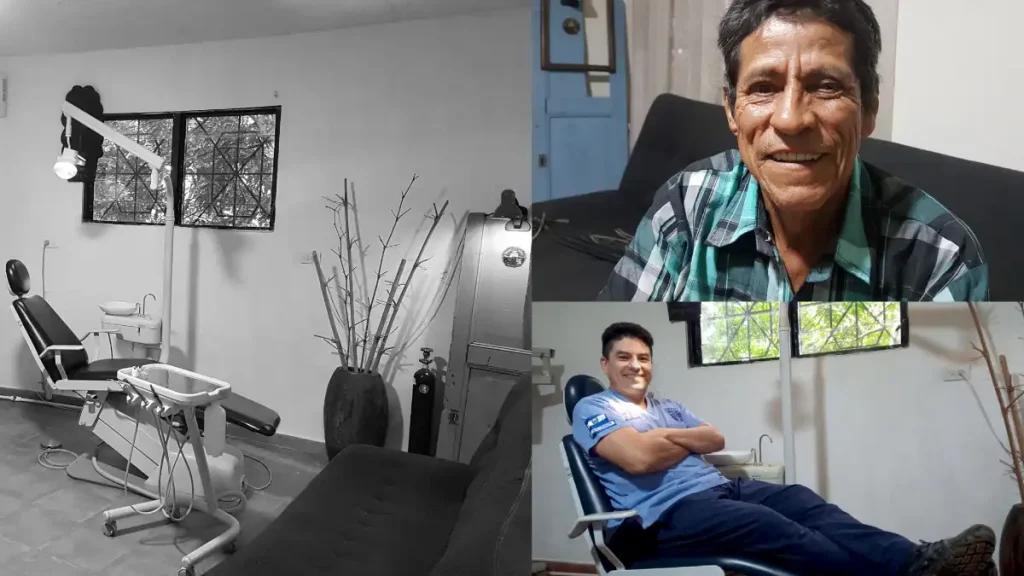 Another dream is the acquisition of an oral scanner with the computer-laptop + dental cad/cam software, in order to work from remote areas and become our own dental laboratory, being supported by other specialists and digitally on the cloud, designing and manufacturing our own dental prosthesis on milling machines or 3D printers.